Yolanda Ruiz
Hi, my name is Yolanda Ruiz. I'm 34 and a mother of three daughters. I was originally introduced to CrossFit back in 2014. After completing my free week of soreness and being challenged, I was hooked! I didn't know anything about weight training or even thought about lifting heavy in general, and now that's what I strive for. I hated how hard it was for me to drag myself to work out at a regular gym and found myself being so unproductive.
GV CrossFit, however, really got me out of my slump of living so unhealthy. The coaches are awesome all around, willing and eager to help me and others become better to reach our personal fitness goals. My transformation with GV has toned my body, made me stronger, and I'm constantly trying to hit new goals. Everyone's having fun, and we are always motivating and supporting one another. It has been a huge positive influence in my life. I am stronger not just physically, but mentally. I have gained so much more confidence and healthy habits. Thanks to GV CrossFit, I am a happier person all around. I always look forward to the next WOD and enjoy looking back to see how far I've come.
I highly recommend it to anyone looking for a place to have fun and better themselves at the same time. Joining this box will be one of the best decisions of your life! You won't regret it – this place is amazing.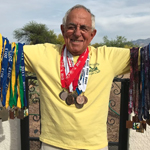 Henry "Hank" Deutsch
Three or four years ago, at my youngest sons urging, I joined the remarkable Green Valley CrossFit. A new and enhancing relationship began for me leading to improved physical fitness, mental development, and many new friendships.
Today at age 79, GV CrossFit's instructors and fitness development programs have made a positive difference in my life. I am so grateful to the staff for their patience and strong encouragement and support in adapting their Workout of the Day (WOD) to my own personal limitations of age and physical fitness. The CrossFit programs are able to be adapted to my personal needs and constraints. I look forward to the intense and varied WODs and especially the enthusiastic encouragement of my fellow attendees at the classes.
CrossFit strongly supports my competitive swim training and bicycling programs. As I approach 80 and train at other CrossFit facilities in my travels, I realize I am usually the oldest participant and yet find wonderful collegial and supportive encouragement from the younger participants.
GV CrossFit is a true community and is like coming home.
Scott Wagner
"CrossFit" … to many, this word invokes thoughts of a super-intense gym, with cult-like members and a workout regimen bound to severely injure all that participate. This couldn't be further from the truth, especially at GV CrossFit.
I found myself at GVCF after several years of running as my preferred method of staying in shape. I was bored with running long distances in solitude and needed a new challenge. I had heard about CrossFit from friends, so I thought I'd check out my local box. I felt fairly confident that completing three marathons and several half-marathons would help me keep up with any type of physical activity that the coaches at GVCF threw at me. Man, I was wrong.
I struggled immediately with EVERYTHING except running. And usually when I got to the running portions of the WODs (CrossFit-ese for Workout of the Day), I was already tired from the other non-running parts. I had never done any weight training or done any gymnastics movements, so I was basically starting from square one with two of the three foundations of CrossFit. I signed up for a six-month contract and told myself that I'd commit to coming 5 days a week to justify the monthly expense. That was almost 4 years ago. I have added immense upper body strength which allows me to perform many of the required weightlifting and gymnastics movements. For the first time in my life, I was able to do a pull-up. After a short time, I was able to connect two pull-ups, then three pull-ups, and on and on.
The concept that the coaches at GV CrossFit adhere to is that each movement in infinitely scaleable. If you can't do the weight as prescribed, they guide you through scaling it down to a manageable weight within your current ability. If you have an injury or haven't mastered a movement, they advise other movements that require similar intensity. On the flip side of the coin, the GVCF coaches are always ready to scale up the movements, weights and intensity once you reach upper fitness levels. There is no such thing as plateauing in our box and everybody is always striving to reach their next goal, whether that is finally adding weight to the barbell after you've been there a few weeks or finally mastering those troublesome double-unders that have alluded you for years.
I went into GVCF without knowing any other members, but over the years, I've forged many friendships with the coaches and other members. The coaches are always planning engaging social events with the members and their families, from Halloween costume parties to in-house competitions with potluck dinners afterwards. I've also formed strong bonds with my fellow 5am GVCF-ers and our tireless coach, Jay, who is always in the trenches with us early in the morning. We always encourage each other and don't let each other relax on our last accomplishment.
GVCF is truly a unique place where after a particularly hard workout, you'll find yourself exclaiming "Man, that was an awful WOD! I can't wait to get up tomorrow and come back!"
Clarissa Rodriguez
Honestly I could not be happier with my decision to join CrossFit. I was skeptical at first because of the bad rep. But after talking with my sister-in-law and telling her how disappointed I was and how disgusting I felt, how I needed to do something, she introduced me to GV CrossFit.
I took just a few classes, and I became hooked. The coaches here are amazing and they really help not only to motivate you but they make sure that you have the right form to prevent injury. The coaches aren't the only ones there helping and motivating; it's really our whole GV CrossFit family. It's not all about the "top dog" which really gave comfort coming from the standard of gyms and being out of shape and never physically completing these movements before. Everyone gets rooted for! From first to last, and it's always that way.
GV CrossFit has been a big part of my weight loss journey. When I started here, I was 235 pounds of post pregnancy weight. I am now down to 165 pounds and stronger and more fit now, at 26, than I was in high school and before I became pregnant! I come in now trying for new goals. I really love my GV CrossFit family!
Quintina Jones
When I first set foot in GVCF, I was terrified. I had just had a baby six weeks prior. I was the furthest thing away from an athlete, and I had asthma. I was afraid that I wouldn't be able to do any of the workouts and was fearful of what people would think when they saw me struggling to keep up or nursing on my inhaler. However, all of those worries were unfounded. The coaches scaled the workouts to something that was challenging, but I could still do. Everyone in the class was amazingly reassuring and helpful. I had faith in the coaches and their ability to help me grow as an athlete. So, my mantra was "show up and do what they tell you to do!" and it's been working for almost three years. I went from an out-of-shape mom of two to a CrossFit athlete that competes. For the first time in my life, I feel like a real athlete. I am undoubtedly in the best shape of my life. I love how strong I feel mentally and physically. I no longer shy away from challenges in life; instead, I accept the challenge and forge ahead.
At GVCF, it feels more like a family. Everyone is so supportive and encouraging. It doesn't matter if you are the last person and having the toughest time completing the workout. There will always be someone there standing next you or doing it with you, and encouraging you to finish strong. The coaches are genuine people who see the potential in every person that comes through the doors. They push you because they know that you are capable of so much more; they just want you to realize it. Many people are limited by the emotional and mental barriers that they set on themselves by saying "I can't!" They teach us to say, "I just haven't done it yet…but I will." When I get frustrated with what I can't do, Coach Jay reminds me that I have came a loooooooong way. My goal is just to add some more o's when he says "a loooooooooong way". When I said, "Jay, I want to go to the CrossFit Games," he didn't hesitate and just said, "Well, we need to get started." The impossible is now possible. My dream is now a goal. Thanks GVCF!
Adrianna Leon
In the summer of 2017, I joined GVCF right before entering my freshman year at Western New Mexico University on a volleyball scholarship. Three years later, not only through CrossFit classes but personal training as well, I have progressed physically and mentally and pushed myself further than I thought was possible. I am so grateful for the coaching staff who continue to support and inspire not only myself, but others on a daily basis!
Join Us. Get Results.
Get started with GV CrossFit. We're here to help you see results.