OUR GOALS ARE YOUR GOALS
Whether you are looking to lose weight, gain strength or just look good in that swim suit. We have a program for you! We believe your workouts should be challenging and fun but, at the same time achievable and customizable. Come check out one of our free group classes or call us to schedule your free One On One consult with a trainer.
Along with our awesome adult group classes, we have a growing youth community. We offer sports specific individualized and small group trainings as well as Kids Fitness classes to just keep kids moving. We are leading the way in Southern Arizona for youth athlete development. On and off seasons training programs available for all sports. Contact us about getting started.
"In the summer of 2017, I joined GVCF right before entering my freshman year at Western New Mexico University on a volleyball scholarship. Three years later, not only through CrossFit classes but personal training as well, I have progressed physically and mentally and pushed myself further than I thought was possible. I am so grateful for the coaching staff who continue to support and inspire not only myself, but others on a daily basis!"
-Adrianna Leon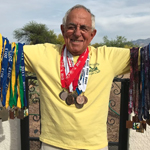 "Today at age 79, GV CrossFit's instructors and fitness development programs have made a positive difference in my life. I am so grateful to the staff for their patience and strong encouragement and support in adapting the WOD to my own personal limitations of age and physical fitness."
– Henry "Hank" Deutsch
"GV CrossFit is truly a unique place where after a particularly hard workout, you'll find yourself exclaiming 'Man that was an awful WOD! I can't wait to get up tomorrow and come back!'"
– Scott Wagner
"It doesn't matter if you are the last person and having the toughest time completing the workout. There will always be someone there standing next you or doing it with you while encouraging you to finish strong."
– Quintina Jones
Arizona's Clash of the Fittest 2019 | October 12th
Time to get your partner ready to THROWDOWN this October at GV CrossFit!! "AZ Clash of the Fittest 2019" is back and ready to find the fittest pair in our Region. This competition is for all levels.
NOT SURE WHERE TO START?
Picking the right program can be overwhelming. Let us help you!