OUR GOALS ARE YOUR GOALS
All CrossFit workouts are based on functional movements, which is part of the magic that transfers to everyday life. These are the core movements found everywhere and built naturally into our DNA. Although we emphasize intensity in most workouts, understanding how to move and eat properly is truly the key to fitness and a healthy body. Nutrition + effort in the gym = results. You can't have the results if one part is missing.
No matter what your fitness level is, no matter what your goals are, you can do CrossFit. We believe in universal accessibility. We can scale the workouts to meet your needs and help you develop as an athlete and reach your goals.
All our workouts can be scaled to enable 70-year-olds to work out with 20-year-old students. At GV CrossFit we believe in an inclusive environment based on having fun and getting fitter together. Our classes run for 45 minutes to an hour which typically includes a warm-up, skill/strength session, and a workout.
"GV CrossFit really got me out of my slump of living so unhealthy. The coaches are awesome all around, willing and eager to help me and others become better to reach our personal fitness goals."
– Yolanda Ruiz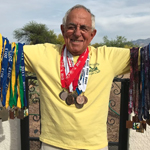 "Today at age 79, GV CrossFit's instructors and fitness development programs have made a positive difference in my life. I am so grateful to the staff for their patience and strong encouragement and support in adapting the WOD to my own personal limitations of age and physical fitness."
– Henry "Hank" Deutsch
"GV CrossFit is truly a unique place where after a particularly hard workout, you'll find yourself exclaiming 'Man that was an awful WOD! I can't wait to get up tomorrow and come back!'"
– Scott Wagner
"It doesn't matter if you are the last person and having the toughest time completing the workout. There will always be someone there standing next you or doing it with you while encouraging you to finish strong."
– Quintina Jones
Arizona's Clash of the Fittest 2018
Time to get your partner ready to THROWDOWN this November at GV CrossFit!! "AZ Clash of the Fittest 2018" is back and ready to find the fittest pair in our Region. This competition is for all levels.
NOT SURE WHERE TO START?
Picking the right program can be overwhelming. Let us help you!